Let your cells get carried away!
COLLAGEN CELL CARRIER®
MEMBRANE (CCC)
Transferable culture membrane for R&D in regenerative medicine & tissue engineering
How about growing your cells or tissues on top of a carrier membrane to generate meaningful cell-based assays, authentic tissue models or suturable, biocompatible implants that enhance tissue regeneration?
The Collagen Cell Carrier® membrane represents a universal scaffold for adherent primary cells, cell lines and stem cells for in vitro and in vivo applications with excellent cell-friendly and biocompatibility properties. The natural collagen type-I fibers create a natural environment that supports high cell densities and the formation of complex 3D tissues with optimal performance. The ready-to-use membrane enables co-culturing of cells on both sides, sectioning for histologic analysis and fluorescent imaging.  For implantation studies, CCC cultures can be easily transferred and fixed to the tissue of interest.
The Collagen Cell Carrier® membrane is available as sheets or circular membranes fitting cell culture plates for flexible use in R&D.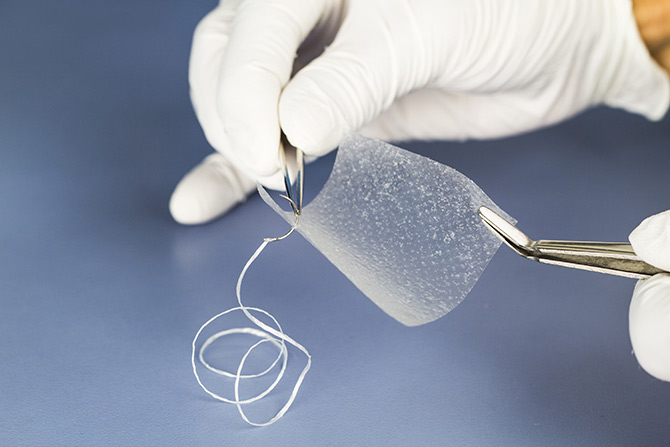 To accommodate flexible needs in cell & tissue culture, the sterile Collagen Cell Carrier® membranes are available in all common formats from 96-well to 10-cm plates. They can be ordered either as "CCC ready-to-use (RTU)" pre-attached to multiwell plates or as individually packed membranes for self-attachment. Square sheets can be trimmed to custom formats with sterilized scissors or a scalpel. 
| VWR-US Cat. No. | Description |
| --- | --- |
| 76518-076 | COLLAGEN CELL CARRIER -Sheet 1PC- 50 X 50 mm |
| 76518-078 | COLLAGEN CELL CARRIER- Sheet 1 PC-100 X 150 mm |
| 76518-080 | COLLAGEN CELL CARRIER 1 PC.- Circle 88 mm |
| 76518-082 | COLLAGEN CELL CARRIER -6 Well Plate 6/PK-Circle 34 mm |
| 76518-084 | COLLAGEN CELL CARRIER-12 Well Plate 12/PK Circle 21 mm |
| 76518-086 | COLLAGEN CELL CARRIER-24 Well Plate 24/PK Circle 14 mm |
| 76518-088 | COLLAGEN CELL CARRIER-48 Well Plate 48/PK Circle 10 mm |
| 76518-090 | COLLAGEN CELL CARRIER-96 Well Plate 96 /PK Circle 0.7 mm |