Publication confirms Fibercoll-Flex® benefits in 3D printing!
Scientists from the University of Basque Country have evaluated the suitability and performance of the Fibercoll-Flex® fibrillary collagen bioinks as standardized and reproducible material for 3D printing and bioprinting.
In the new study, Garcia-Villen et al. found that the acidic Fibercoll-Flex-A® has excellent printing performance of complex scaffolds with superior shape fidelity and is best suited as a scaffold for cell seeding. They also evaluated bioprinting with MSC and L929 cells at room temperature using the neutralized Fibercoll-Flex-N® as bioink and observed high cell viability and optimal performance of the stable 3D cultures.
This recent scientific evaluation confirms the benefits of Viscofan BioEngineering's new Fibercoll-Flex® bioinks as reproducible, flexible and reliable collagen source for the printing of viable tissue models.
Collagen ebooks – informative & fun to read!
Viscofan BioEngineering is sharing its experience and know-how by preparing an ebook series on collagen, its industrial manufacturing and its use as biomaterial for medical research and development. The first two issues have already been published and are available free of charge on request: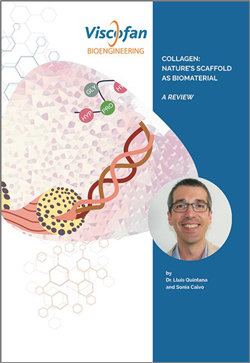 Collagen – nature's scaffold as biomaterial
In the first issue of our ebook series, BioEngineering experts Dr. Lluis Quintana and Dr. Sonia Calvo provide an informative and entertaining overview of the fascinating biomolecule collagen, its native functions and its relevance for modern biomedicine.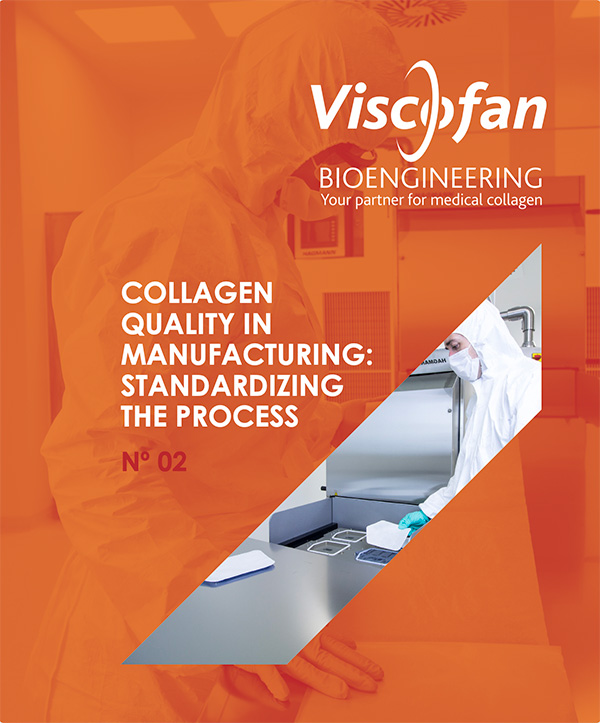 Collagen quality in manufacturing: Standardizing the process
In the second issue, Lluis Quintana highlights the need for quality manufacturing of biomedical scaffolds, describes in-depth the necessary steps in industrial production and how the process can be standardized.
Avantor non-exclusive distributor in the U.S.A.
Viscofan BioEngineering announces Avantor as a non-exclusive distributor for their collagen research biomaterials in the USA. With this step, the company aims to access new markets in regenerative medicine, tissue engineering, medical device technologies or bioprinting.